Evans Petroleum is a locally-owned authorised reseller of BP and Castrol fuel and lubricants with 15 BP service stations, and a Wholesale Fuel arm selling and delivering to commercial businesses and farms across Gippsland.
Established in 1970, Evans Petroleum has grown significantly based on a mandate to provide the highest quality fuels and lubricants available and a commitment to deliver the best advice and service possible. Employing over 150 local staff, Evans Petroleum is dedicated to actively supporting the Gippsland economy and re-investing in local communities.
Evans Petroleum -
Keeping Gippsland
Moving.
Customer Focused Service – When dealing with Evans Petroleum you will be assured of friendly, professional service. We are known to go out of our way to ensure you receive your order or advise when needed.
Highest Quality Products Only – Because we known, there's no substitute for quality, and nothing more important than trust.
Dependable & Responsive – With our large fleet of trucks we can meet most bulk cartage requirements with minimum notice.
Local Knowledge – We understand it is essential to have the local knowledge to properly support our customers, that's why we only hire locals.
Community Support – We are dedicated to supporting our local economy and support Gippsland communities.
Flexible Outlook – We know that each customer is unique. We are happy to negotiate each contract on its own merits.
Professional Drivers – We have a stable workforce of responsible drivers. Your goods will be safely transported by the most efficient means available.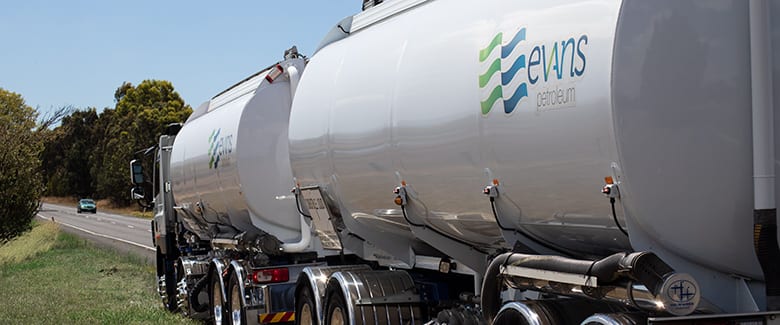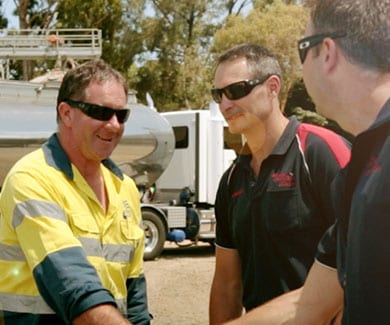 A Timeline of Evans Petroleum
Founded in 1970 - Reg Evans, an Esso representative in Gippsland for 13 years, founded Evans Petroleum after purchasing the Esso distributor business in Leongatha.
Steady expansion from 1970 to 1985 – Evans grew steadily in its first 15 years, purchasing two other distributors in Korumburra and Wonthaggi.
Change of ownership in 1989 – Reg and Mary Evans retire, and the business is taken over by son Stuart Evans and wife Jenene.
Mobil purchases Esso Australia in 1990 – Evans Petroleum becomes an Equity Distributor for Mobil in South Gippsland, and becomes more involved in Retail Convenience Stores.
Evans purchases Yarram Petroleum in 1999 – Evans purchases Yarram Petroleum and leases the Yarram site.
Mobil exits the retail convenience market in 2009 – Mobil announces that they are exiting the retail convenience market. With 10 retail convenience sites in South Gippsland, Evans Petroleum begins considering its options.
Evans changes its retail sites to BP in 2009 – After Mobil announces its exit of the retail convenience market, Evans Petroleum begins its partnership with BP.
Evans purchases Carmody's of Sale in 2012 – Evans purchases a fuel depot and service station from Carmody's in Sale, and begins servicing commercial operators and farmers in the East Gippsland market.
Evans appointed BP/Castrol distributors for Gippsland in 2013 – BP announces that Evans Petroleum will be their BP/Castrol distributor for the Gippsland region and begins distributing from the Traralgon Depot.
Evans purchases the Johnsonville Garage in 2015 – And enters into an exciting and challenging new market – that of an automotive workshop. Evans Petroleum now operates out of 12 retail sites across Gippsland.
Evans purchases Newmerella self-serve Shell and re-brands it as an BP. Newmerrela is new territory for Evans in that it trades 24/7 through the use of an after hours self serve terminal. The purchase of Newmerella takes Evans' retail holdings to 13.
In January 2018, with the help of a range of local builders, designers, engineers and trades, Evans Petroleum opens the brand new state-of-the-art BP Westside service station.
Evans Petroleum in 2019 – Evans Petroleum is now a leader in the Petroleum market in Gippsland, servicing retail fuel customers, and commercial and farming operators in South Gippsland, the Latrobe Valley, East Gippsland and wider Victoria. The company is a leader in community and charity contributions and now employs 150 staff, and operates 21 tankers.
Our Awards

Outstanding Distributor
Growth - Regional
Dealer and Regional
Conference 2014

Outstanding
Business Partner 2015
Dealer and Regional
Conference 2015

Outstanding
Business Partner
Dealer and Regional
Conference 2017

National Group Site Of
The Year Independent Site
Dealer and Regional
Conference 2017

VIC Multi Award
(plus 3 Sites)
Dealer and Regional
Conference 2017

VIC Multi Award
(plus 3 Sites)
Dealer and Regional
Conference 2018

Excellence
in Marketing
Dealer and Regional
Conference 2018

Buying Group
Award Multi Site
Dealer and Regional
Conference 2018